Interactive Map
Once the points are loaded, each day of skiing can be visualized on the Interactive Map. The Map allows you to visually navigate each day of skiing by plotting all the GPS data points for that day in a scaled map or "track." Additionally, for any location in the United States, a set of satellite images may be downloaded allowing the track to be superimposed over the image. Additionally, the map will highlight as you interact with the data grid selecting runs or even individual data points.
Interact with your SkiTrak(TM) days:
Explore, zoom, set colors, gridlines, and highlights.
Resorts and lifts are detected automatically.
Download and show satellite images (for United States locations).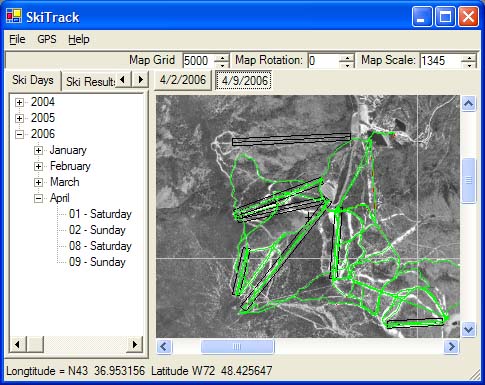 Once the GPS data is downloaded, SkiTrak catalogs and plots the data allowing the user to browse and view ski maps by date.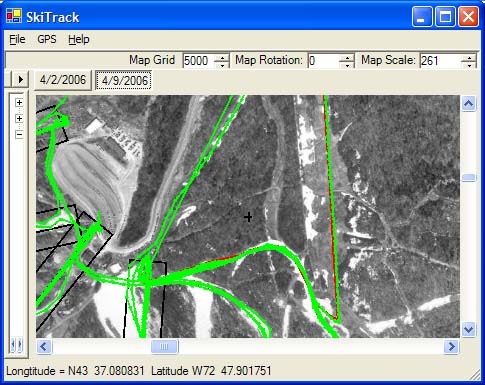 The map can be zoomed in, individual runs can be highlighted and ski lifts displayed.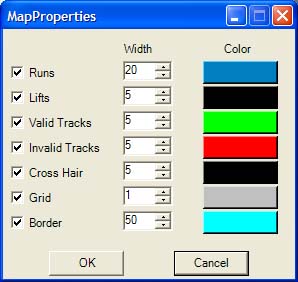 The map can be configured to display the various portions of the map in difference colors.
Free scaled maps are available for the US only and require internet access. These maps are retrieved from TerraServer-USA a free service that is not controlled by SkiTrak and are available on as long as TerraServer-USA makes them available. Other sources, specifically for international images, are under investigation.