Expanding Data Grid
The expanding data grid view lets you dive into the numbers that SkiTrack provides, automatically totaling at whatever level you explore. Simply click the row to expand deeper into each day, run, or even to a single point in time on the mountain.
Answer key questions such as:
How fast did I actually go?
How far did I actually ski? (miles/km)
How much time did you spend on ski lifts?
How much time did you spend actually skiing?
Where was the fastest or the steepest slope?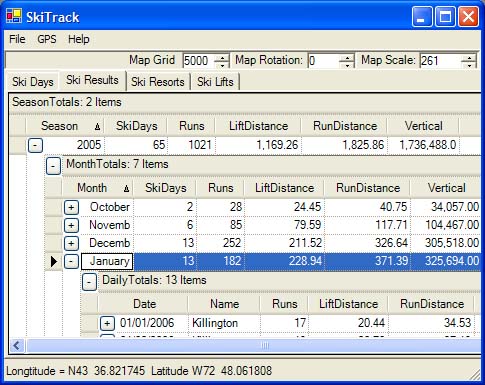 All the important data about speed, distance, time and numbers are available at any level, and totaled by season, month and day.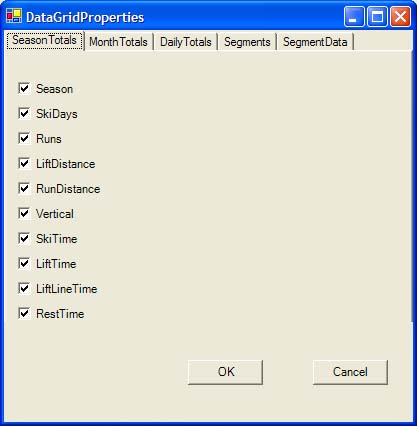 The data columns can be configured to only display the information important to you.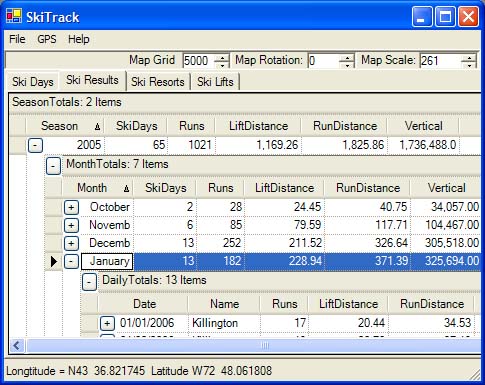 Each day of skiing is analyzed automatically, to be broken into separate segments for runs, lifts, and even the parking lots!


Using the Segment Display you can look at the your day of skiing and see any number of factors, such as how fast you skied a particular run or how long it was, or how long the lift ride was. In the Segment Data Display you can dive into the detail of each run and see further details, such as how fast you were traveling or how steep it was at different places in the run.