SkiTrak

SkiTrak™ is innovative software built to import and store personalized data collected from a portable GPS device worn while skiing. The GPS device captures a vast amount of data so you can analyze your progress as a skier every time you ski. Both new and experienced skiers can use the data to see where you could improve your techniques or plan your day to get the most out of your skiing adventure.
Where in the World Have You Been Skiing?
SkiTrak enables you to systematically track and store your ski activity in explicit detail. Simply strap on a wristwatch style GPS or any portable GPS and then ski all day like you already do. When you are done skiing, connect the GPS to your computer and SkiTrak automatically downloads, organizes, and calculates the GPS-recorded ski tracking data, giving you a simple display that both maps and analyzes your data. Every time you ski, a new day of data gets added automatically to the rest, giving you unlimited cumulative statistics, yet still organized by lift, runs, season, month and day. SkiTrak gives you the information you need to assess your progress over time.
New – Customer Stats

Based on customer request, we have added the ability to compare and share your days of skiing with other SkiTrak(tm) users! Just update SkiTrak(tm) to the latest version, open the day you want to share/compare and select the menu item File\Send Statistics to Web.
SkiTrak is Simple
With SkiTrak, you simply strap on any portable "wristwatch style" GPS and then ski all day like you already do. But when the skiing stops, SkiTrak takes over. Connect the GPS to your computer and SkiTrak downloads, cleans up, organizes, and number crunches all the GPS-recorded ski tracking data, then shows it to you in a simple display that both maps and analyzes your data.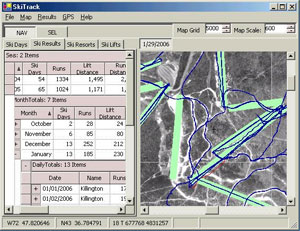 SkiTrak provides the following features:
Maps resorts, runs and lifts onto satellite images
Tracks vertical feet, total distance skiied, top speed, average speed, time skiing, time on ski lifts, number of runs and more
Keeps tracked information about your skiing by run, day, month season for as long as you want to track
Interfaces with Google Earth to display your ski tracks in Google Earth maps
Ski More and Ski Better
With statistics at your fingertips for every run, the serious skier can monitor their improvement and track how changes in technique translated to faster times.
With data available for every ski trip you've ever taken, it is easy to compare and plan for your next trip. Where did you max out your slope times? Where did you get stuck on lifts all day? Where were the most exhilarating runs you wanted to experience again?
* Free scaled maps are available for the US only and require internet access. These maps are retrieved from TerraServer-USA a free service that is not controlled by SkiTrak and are available on as long as TerraServer-USA makes them available. Other sources specifically for International images are under investigation.